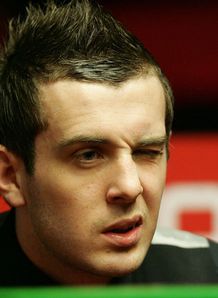 The four snooker semi finalists have 25 centuries between then, including 8 from Mark Allen. Can he rekindle the spirit of Dennis in '85 this weekend?
Two of the semi finalists, John Higgins and Shaun Murphy are joining Ken Doherty and Jimmy White in Killarney in 2 weeks time, on 17 May, for a
World Series of Snooker
event. See ye there!
John Higgins beat Mark Selby in the quarters in a replay of the 2007 final. The 13-12 result was as close as it gets. Mark Selby had 10 centuries in the tournament and is surely the best performer ever to go home before the one table setup. John Higgins comments after the match are a great summary of the state of snooker in 2009.

"I really don't know how I won. My concentration has been great, and during the match I was trying to concentrate on how many balls Mark missed. I only counted 3 or 4 during the whole match, the other times he ran out of positon through bad luck, so to beat him I'm flabbergasted because he's such a great player. It's my best win ever, definitely."

"That shows how highly I regard Mark and his performance, I'm not just saying that because it's after the match. When we had the 2 reracks, he said let's call it a draw because there shouldn't be a loser, and I said you're dead right mate. I don't know how I held myself together on that last break."

"If can't take confidence from beating Jamie Cope and Mark, I never will."

"I kept thinking why does Mark always do this against me? Only Ronnie playing great stuff has stopped him winning another Masters, and the UK when he made a 147 in the last frame. It speaks volumes that only Ronnie has been able to stop him. I could tell after the 2007 final, I said he'll come back and win this, because he's improved beyond belief over the last 2 or 3 years."

"I know I'm the oldest player left and I look it with the grey hair! I heard Ronnie saying that we're hanging on with our fingertips, and that's what myself, Ronnie and Mark Williams are doing. Stephen doesn't need to because he's got 150 grand in his pocket. We were the best players of the late 90s, and now in late 2000s we're hanging on to compete, because Mark Selby, Shaun Murphy, Stephen Maguire, Mark Allen and Jamie Cope, they are the future and that's what happens, it's father time. The likes of John Parrott and Jimmy White were hanging on when we were coming through."

"I kissed my wedding ring at the end, I've seen other people jumping about and going crazy, so that's my way. My wife said me and Mark are both playing great, just carry on and hope to get to 13 first."

"Mark Allen is a breath of fresh air for the game, he's got a bit about him. Under the cosh, to beat Ronnie and Ryan, he just breezed through with no nerves. There's four left and we've all got a great chance, it should be two great semis. There's no tiredness because the semis are spread over three days. I've only played Mark once - at the (2005) Northern Ireland Trophy, and he gubbed me 4-1."

Source:
World Snooker